Helpful
Hints
For a seamless wedding day
We know that you have plenty to think about on your wedding day. We want you to be able to relax, trust the process, and enjoy every bit of it. That's why we've put together these helpful hints to help your wedding day photography go off without a hitch. Plan ahead and get to know your photographers so that you can trust that they'll get the shots you want. And then go have fun. Your wedding day is all about celebrating with the people who are most important to you.

–
Helpful hint:
Share
Your
Vision
How to get the most out of your wedding photography
Your wedding images should be spectacular depictions of you and your style.
There are a few things you can do before wedding day to help your wedding photos rock.
Share, share, share with your wedding photographer. Let us know who you are, what you are all about and what styles you love. This will help us capture images that you will adore.
We have a lengthy list of fabulous locations and we are always on the hunt for new and stunning backdrops. If there are any locations that have meaning for you as a couple, or a spot that you think will be perfect for your wedding photos, let us know. We'll check them out before your wedding day to get ideas and to make sure we can capture the optimal lighting.
Which photos are a must? Let your photographer know what is really important to you. We will make a point of making those photos happen. We're also completely open to collaboration; if you have an idea for a creative photo, by all means, let us know about it! The wedding photos with a few creative brains behind them are often the best!
Props: it sounds cheesy but it 

doesn't

 have to be. Are you a musician? Bring your instrument. Did you meet on the golf course? Bring some clubs. We don't have to focus your photos around them but including them in a few wedding pictures can really add to your story.
Prepare your friends and family for our style of photography. This can put them at ease on your wedding day and allow them to trust in our skills and style. Consider sending an email out with a link to our website so that your friends and family can get a feeling for what we're all about. People are commonly anxious about looking bad in pictures. It's nice to reassure them that they are in good hands and will look fabulous.
Trust us. There are some examples given below of times when you'll just have to trust our judgment. We may ask you to pose in an odd location or it may look like we're photographing a tree instead of you. But in all of these cases, we're just working our magic! Roll with the process and enjoy your wedding day.
Helpful Hint:
Trust us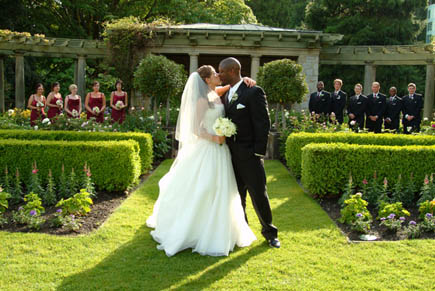 Backlighting
Anyone who has tried to take a photo of someone backed into the sun with an automatic camera knows that it rarely turns out. However, when we apply this effect using manual cameras and years of practice, this same set-up can create the most beautiful rim light and make the photo pop.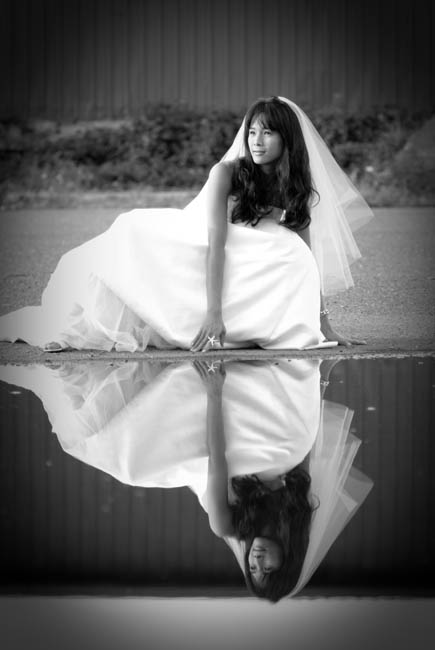 You want to shoot where?
This photo was taken in an industrial parking lot. Sometimes we see things as they could be, not what they are. If we pick a bizarre location, go with it. It will look glamorous by the time we're finished with it!

You may not be the focus but you're still the star
It may seem like we're not shooting you any more but we're just incorporating other elements into the shot.

We're committed
My pants were rolled up and I was well into the water for this one. If that is where the best angle is, that is where we will go.  It's what professional photographers do.